Roof box OLEJÁR-B333
Progressive roof box for exacting customer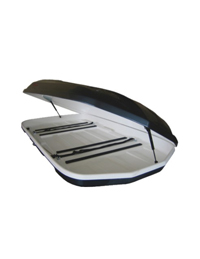 We are proud to introduce a carefully designed roof box OLEJÁR-B333 to the market. During the development of the product we have concentrated especially on customers who care about details and a nice design. Roof box OLEJÁR-B333 is a combination of functionality and beauty. Its timeless design is in compliance with the newest trends in automobile industry and the extraordinary quality of its surface makes it an undetachable part of your car.
Technical description of the product
Roof box OLEJÁR as universal usage during the winter, but also during the sommer season. It is made of high-quality fibreglass laminate, which is firm, light and stabil (this plastic is being used in automobile industry).
The box is lockable with safety- keylock or by using a code, what guarantees sufficient tolerance against unauthorized opening. The box gripping is universal for various types of roof baggage racks with spacing (distance between bars) of 700 -1050mm. In case of different spacing it is no problem to adjust it according to your needs simply by dimpling of new holes for holders, which are to be screwed down on to the rack from the inside of the box.
Roof box has gas pressure spring, which help to open and close the box and lock individual positions. Gripping of the baggage (ski, ski sticks, baggage...) is enabled through adjustable fixative straps or through the possibility of upholstery of the bottom inside of the box, what guarantees comfort by transport of the baggage. Colour stability of the box is guaranteed by the surface treatment of car paint.
Technical specifications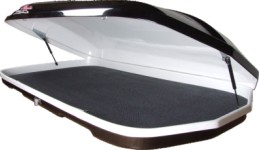 lenght 1870 mm
width 1000 mm
high 297 mm
luggage capacity 333 l
empty weight 23 kg
maximum load 75 kg
padded board 6 kg
Roof box OLEJÁR has homologation tests which were conducted in the test center of TÜV UVMV s. r. o., Novodvorska 994/138, Praha 4.