Brail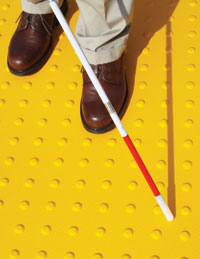 The idea of our product's creation arrived to us from the U.S.A., where the products with this typus have been used since the year 1980. During the production of the floor boards we usually lean against the technologies of american companies , whose floor products are assembled and extended on the territory alongside all the U.S.A. This reality participated in the fact, that it has come up to minimization of the number of injuries at the weak-sighted, the blinds, also as at some others, accordingly.
The floor boards of the type "BRAIL" introduce a method of the horizontal signification , assembled at the edge of the platform station surface, without any need of the further intervention into the existing surface.
On the basis of the detailled consultations with the Department of the blinds and the weak-sighted people we generated some prototypes of the floor plates for them. The floor boards consists of the 2 types of the designs/ reliefs/:
Warning relief - the structure of the floor board is being created by prominencies with the diameter 20 milimeters /mm/ and the height: 5 mm, equally distributed on the floor board surface. The distance is approximately 50 mm. By this fact the sallies are fully perceivable under the foot plantas (soles).
Directional relief - this typus of the relief is presented in the form of slots, with the width 41,25 mm, the height 5 mm and spacing is 35 mm.
For the additional auxilliary location factors detected for the blinds we could consider the typical characteristic sound, which usually generates during moving of the bent stick on the floor board.
The colour of our plates is optional. There is being utilized traditionally red colour of the bands on the street communications in the exterieurs in comparison to the surrounding grey or black colour of the floor foundation.
From the point of view of the measures uniformity alongside all the area of the Slovak republic we recommend to you to maintain this colourity, because this is the most distinguishable form by the blinds and weak-sighted people.
For the floor plates/floor panels/ it is possible to tag together the following stripes, which are being claimed by the Regulation No.532/2002 of Law Coll. and No.09/2009 LC under the recent modifications of the pedestrian ways :
warning signal to the boundary-line between the pavement and road-way
signalling band
warning band to the boundary-line between the pavement and the path for cyclists
warning band and guide lines towards the railway platforms/ Regulation of the Slovak republic Railway Union Headquarters No.1075/ 2007/O220.
Detailled warning,-and guiding band BRAIL
| | | | |
| --- | --- | --- | --- |
| | | | |
| Brail | Brail | | |
Some examples of the warning,- and guide stripe Brail in the praxis